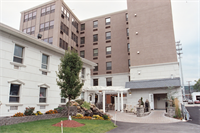 About Regency Grande Nursing & Rehabilitation Center
Regency Grande Nursing
and Rehabilitation Center

155 Bed Facility
65 North Sussex Street
Dover, New Jersey 07801
Phone: 973.361.5200

Regency Grande is located in the historic town of Dover, in New Jersey's Morris County. Founded in 1722, the picturesque community is actually nestled in the foothills of the Appalachian Mountains, although it is just 35 miles from Manhattan and approximately the same distance from the Delaware River and the Pennsylvania border. Once a landmark hotel, today the six-story facility has evolved into a wonderful showcase of Regency's commitment to total patient-centered care and comfortable, home-like living.

Regency Grande's team of experienced caregivers and support staff provides a variety of long- and short-term healthcare services designed to meet the widely varying and changing needs of our residents and patients, including the elderly, those suffering from prolonged illnesses or disabilities, as well as short-term rehabilitation candidates. Services at the 155-bed facility range from 24-hour skilled nursing to sub-acute care and assistance with basic requirements of daily living in Regency Grande's gracious assisted living accommodations.

Residents and families alike enjoy the friendly environment, comfortable, cheery rooms, sumptuous dining with choice of meals, beautifully appointed living, dining and recreation areas, as well as a stimulating schedule of activities and entertainment.

Regency Grande is very much a part of the Dover town landscape that, for the past several years, has been undergoing a business and cultural renaissance. Families and residents can step out of our front door and shop for antiques, ride in a paddle boat, visit dozens of boutiques, go to a country-style auction, attend a summer concert, or dine at one of the town's many fine restaurants.

Easily reached by public bus or rail transportation, or via automobile from major roadways Routes 80, 46 and 10, Regency Grande has emerged as a "grand example" of Regency living!

Primary Specialty
Rehabilitation Specialist
Practice Regency Grande Nursing & Rehabilitation Center
Services Regency Grande Nursing & Rehabilitation Center is a Rehabilitation Specialist in Dover, NJ. A Rehabilitation Specialist specializes in recovery, and provides rehabilitation, physical therapy and other types of therapy that help with regaining normal function.

Please call Regency Grande Nursing & Rehabilitation Center at (973) 361-5200 to schedule an appointment in Dover, NJ or to get more information.
Consumer Feedback
View All

40

Reviews
Add a Review
Recent Reviews
I don't know how to put into words the kindness I've received there. I could not have been in a better place.. I loved all the girls (the aides and therapy). Therapy got me to go home.
Excellent. The therapists, aides, nurses, everyone is wonderful. It's kept very clean They're constantly cleaning and the food is good and if you don't like what you get, the aides will go get somethi
Add a Review