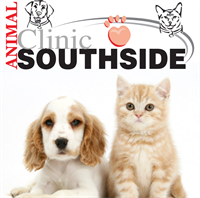 About Matthew Garver, Dr.
We understand that your pet is part of your family, your best friend and companion. We want to help you care for this special friend by providing the highest quality of health care available. The staff at Animal Clinic Southside combines a loving and caring touch with professionalism.

The care your pet receives today, and throughout its lifetime, will enable you and you're pets to share years of good times and friendship. Proper care includes routine vaccinations, periodic examinations, parasite control, dental examinations, and a special diet that meets your pet's needs. We are committed to the long term care of your pet. Our experience and love for animals can give you the peace of mind, and help your pet live a full happy and healthy life.

A pet can bring a lifetime of joy, love and treasured memories. With those happy moments also comes a special responsibility to care for the needs of your animal friend. We believe your pet deserves the best veterinary care has to offer and we take great pride in making sure he's treated like a member of the family.

Animal Clinic Southside leads in veterinary care by combining compassionate care with the latest in medical technology and treatment.

Our friendly, experienced staff provides a host of pet care services, including vaccinations, dentistry, weight management and microchip identification.

On our Web site, you will meet our caring staff, find vital information about our practice, learn about our services - and much more.

Please contact us at our office to talk about your pet's needs or to a schedule an appointment, we look forward to serving you!
Primary Specialty
Animal Hospital
Practice Animal Clinic-Southside
Gender Male
Services Animal Clinic Southside offers a full range of veterinary services to care for your pet.
Animals we treat:
Dogs, Cats, Birds, Rabbits, Rodents.

Consumer Feedback
View All

15

Reviews
Add a Review
Recent Reviews
Love this vet and won't take my animals anywhere else. The doctors are kind and always willing to answer questions. The prices are excellent and I love that it's walk-in. I would recommend them to an
by
Sarah Saylor
xxx.xxx.15.37
April 10, 2014
They've never dismissed any of my concerns as unimportant, and take every concern of mine very seriously. They were somewhat easy to reach in an emergency. They didn't answer the call at first, but d
Recent Polls
Were the waiting room chairs comfortable while waiting for your pet?
Not really
by
Anonymous
xxx.xxx.3.116
June 14, 2016
Did you feel that this veterinarian's pricing was fair?
It was some of the best pricing I have seen
by
Anonymous
xxx.xxx.105.86
March 20, 2014
Add a Review