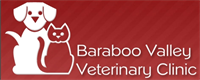 About Dr. Steven Beckett
We care about you and your pet.
Primary Specialty
Animal Hospital
Practice Baraboo Valley Veterinary Clinic
Gender Male
Services Dr. Steven Beckett practices at 403 South Parkway, Baraboo, WI 53913.

Animal hospitals offer general and emergency pet care services. Some animal hospitals offer 24 hour emergency services-call to confirm hours and availability.

To learn more, or to make an appointment with Dr. Steven Beckett in Baraboo, WI, please call (608) 355-2882 for more information.
Additional Services Veterinarian, Animal Hospital, Emergency Veterinarian Service