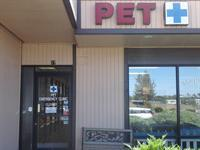 About Heidi Hilleary, DVM
At Mother Lode Pet Emergency Clinic we understand that your pet is member of your family. While they are in our care, they will be treated like a member of our family too. We also understand how emergency vet visits can be a nerve-racking experience – for pets and owners alike. That's why we're so proud to provide a warm and caring environment for all your emergency veterinary needs. We are happy to serve Placerville, Cameron Park, El Dorado Hills and Folsom.
Primary Specialty
Animal Hospital
Practice Mother Lode Pet Emergency Clinic
Payment Options
Cash, Check, Visa, Mastercard, CareCredit
Services Mother Lode Pet Emergency Clinic specializes in comprehensive and compassionate expert emergency pet care. When your pet is in need of emergency treatment, our loving staff works hard to meet all their needs with skill and caring.
We specialize in Emergency Pet Care of all kinds.


Consumer Feedback
View all

5

Reviews
Add a Review
Recent Reviews
OMG!!!! I have never experienced such an unprofessional place of business like this one. Everyone was a little too kicked back for me; which is concerning in itself. The help looked like they were half asleep and they sure didn't communicate information very well. I brought a friend with me to the appointment and she was shocked too. Perhaps someone should take a look at how this clinic is being operated. The free $35 exam isn't all that because it only took 3 to 5 minutes of the Vet's time!

Things really didn't appear to be very sanitary at this clinic. People should be required to bring their cats and dogs in carriers instead of carrying them in their arms or bringing them in on leases. I imagine some of those animals are sick with contagious issues. I would be livid if my pet caught something from this place. And for some reason there is a dog that runs loose in the clinic. It's common knowledge that it only takes one time for a dog to get aggressive before it will bite someone.

Although I'm a senior on a fixed income, I will never take my pet back to this clinic for anything! I love him and he deserves better.


by
Concerned pet lover
XXX.XXX.1.60
March 21, 2014
I wouldn't take my pet back here- the equipment they use is awful. They perform surgery in an unsanitary environment. My dog was kept there after losing a large amount of blood from 1pm till they actually touched him at 10:30 pm. The Vet Heidi, is not clean, she did surgery after eating a piece of pizza, did not wash her hands nor wear gloves. She disappeared for over an hour and came back with two small kids that were allowed to run throughout the place, including where they performed my dogs surgery which was next to a sink. where the resident dog is also allowed to run.
My dog was hit by a car and his leg cut open and bone was visible on a Sunday. He was rushed there they took xrays of his chest and abdomen but not his leg. I subsequently took him to my regular veterinarian Monday (yesterday) who took the bandages off and did not like what she saw and referred me to an orthopedic surgeon. As you can guess, yes his leg is fractured. He is at a clinic now. having the unsanitary wound cleaned and stabilized. After the stiches were removed today, there was a significant amount of his hair inside of the site. My dog also suffered razor burns next to another surgical area because the razor they used kept stopping, and the kept hitting it on the counter to get it to start again. He has a large area of razor burn next to his road rash and cuts.
I AM GOING TO SEEK LEGAL ACTION...................................
They definitely don't have a good professional reputation within my community. Unfortunately she is the only 24 hour emergency clinic in the foothills. Yesterday and today I have heard nothing but bad things about the services that they provide, and her reliability as a Vet. I witnessed all of the above first hand.

I tried to submit this with NO stars.
by
Donna B
XXX.XXX.118.155
January 22, 2014
Late one night, we raced our dog here after she was hit by a car. The clinic took x rays, told us our dog had a collapsed lung and fractured pelvis and suggested that we leave her at the clinic until we could arrange to get her to an orthopedic surgeon. They mentioned that there would be no one at the clinic during the day, but that someone would come by to check up on our dog. The next morning, we contacted our normal vet clinic, found a surgeon, made the appointment, and contacted Mother Lode to meet the vet at the clinic and pick up our dog. We arrived at Mother Lode and discovered that our dog had died. The vet explained that they had given her pain medication and an IV, and then left her alone for the day. She even went so far as to cover her mouth with her hand and say "Oops!" as if our dog's death was a minor issue. When we called our regular vet to cancel the surgery and told her what happened, she let us know that it isn't legal to leave animals alone after giving them pain medication or an IV. I realize that our dog probably had more severe injuries than anyone could have known about, but I can't help but think that this vet leaving her alone for the day contributed to her death. Please don't leave your pets with this clinic!

by
Anonymous
XXX.XXX.240.145
December 08, 2011