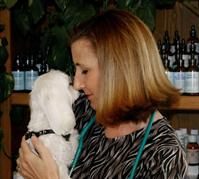 About Tamara Hebbler, DVM
The goal of holistic medicine is to achieve balance so true healing can occur, addressing aspects of mind, body, and spirit together.

Healing Hope is an exclusive holistic consultation practice currently located in the Design District of Solana Beach, California.

Dr. Hebbler facilitates healing with a variety of modalities including nutrition, nutraceuticals, glandulars, western and eastern herbs, homeopathy, and flower essences.

She also uses different techniques for detecting and correcting energy imbalances such as Contact Reflex Analysis (CRA), Autonomic Response Testing (ART), scientific muscle testing, Reiki and Theta energy healing, Veterinary Orthopedic Manipulation (V.O.M. chiropractics), and cranio-sacral manipulation.

She is very active in the holistic veterinary community and uses outside resources to do individual research for clients, communicating online with other holistic vets worldwide.
Primary Specialty
Animal Hospital
Practice Healing Hope
Gender Female
Staff Dr. Tamara Hebbler, DVM
Dr. Amy Lockwood- DVM, Acupuncturist
Heike Joy- Reike Master
Eliza - Office Manager
Tina- Vet Tech & Clinic Manager
Leela- Receptionist
Becky- Vet Assistant
Affiliations SDCVMA, AHVMA, AVMA

Services ~Holistic Medicine
~Homeopathic Remedies, Flower Essences, ~Gemmotherapy & Nutraceuticals
~Diet/Nutrition counseling
~Behavioral conseling
~Chinese Herbs
~Phone consultations - Dr. Hebbler offers both urgent and non-urgent phone consults to her clients.
~Patient health care coordinating- Dr. Hebbler can help keep ER bills low in an emergency.
~Energy Therapy
~Acupuncture
~Reiki
~Craniosacral Therapy
~Chiropractic VOM
~Non-anesthesia dental cleanings
Consumer Feedback
View All

3

Reviews
Add a Review
Recent Reviews
Healing Hope was an amazing experience for myself and my chihuahua Roxie.
Dr Hebbler & staff made sure every single question I had was answered, and are always available urgently if I think of any mo
Recent Polls
Was your pet well taken care while being boarded here?
Absolutely, my pet always get so much attentiion
by
Anonymous
xxx.xxx.18.133
February 04, 2013
Were the kennels and holding areas clean?
Absolutely, the kennels and holding areas were some of the cleanest I have ever seen
Add a Review