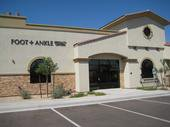 Nearby Specialists - Call Now sponsored
About Payam Sarraf, D.P.M.
Payam Sarraf, D.P.M. practices as a Podiatrist in Gilbert, AZ.He graduated from California College of Podiatric Medicine and has been practicing since 2003.
Primary Specialty
Podiatrist
Gender Male
Years In Practice 13
Education California College of Podiatric Medicine
Training 3 Year Surgically Trained in Foot & Ankle Trauma and Reconstruction
Affiliations Mercy Gilbert, Chandler Regional, Banner, Mountain Vista, St Luke's Phoenix
Certification Doctor of Podiatric Medicine
ESWT Shockwave Therapy
Certified Wound Specialist
Fellow American College of Wound Care Specialist
Diplomat American Academy of Wound Management
Services Payam Sarraf, D.P.M. provides podiatry in Gilbert, AZ at 4915 E Baseline Rd Suite 121, Gilbert, AZ 85234. Podiatrists are able to treat conditions and disorders of the foot, ankle and lower leg. A Podiatrist may treat bunions, calluses, ingrown toenails, heel spurs or foot deformities.

To determine if Payam Sarraf, D.P.M. can help you, please call the Gilbert, AZ office at (480) 812-3668 for more information.
Consumer Feedback
View All

24

Reviews
Add a Review
Recent Reviews
Dr Sarraf treated my right ankle when I had been in a lot pain for 2 years after an unsuccessful surgery performed by Dr. Steen Johnsen in Pheonix. I saw many other Dr's and no one could help me. He w
by
Ladansun
xxx.xxx.175.8
February 02, 2016
Recent Polls
Did this provider spend time asking questions and listening to you?
Definitely
by
Anonymous
xxx.xxx.176.112
August 06, 2014
Did they follow up with you after your appointment?
Yes.
Add a Review