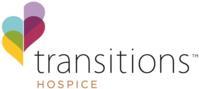 About Transitions Hospice, LLC
Serving 26 counties Illinois: Boone, Cook, DeKalb, DuPage, Grundy, Kane, Kendall, Lake, LaSalle, Lee, McHenry, Ogle, Stephenson, Will, Winnebago, Kankakee, Peoria, Marshall, Woodford, Tazewell, Livingston, McLean, Ford, Iroquois, Champaign, Vermillion

We are experts in the art of living. Our mission is to empower our patients and their families by providing the tools and support necessary to embrace life. We don't focus on the finality of death;we focus on the practical side of living. Our job is to assist our patients and their families through the physical, emotional and spiritual challenges of life's final transition.
Primary Specialty
Hospice
Practice Transitions Hospice, LLC
Services Transitions Hospice Provides all levels of care.

Hospice services are a Medicare Part A benefit. The Medicare Hospice benefit offers 4 levels of care:
- Routine Hospice Care
- Respite Care
- Continuous Care
- Inpatient Care

Medicaid and most insurance plans also cover hospice care:
- 24 hour nursing
- 24 hour Social Work & Counseling Support
- Volunteer Services
- Physicians and Nurse Practitioners that are Hospice and Palliative Care Certified
Additional Services Hospice, Palliative Care, Illinois, Huntley
Consumer Feedback
View All

5

Reviews
Add a Review
Recent Reviews
I knew I was getting top-of-the-line treatment when they told me about what they learned at the latest conference they attended, and how they were incorporating that knowledge into the practice. Their
When we first started with them, they were good. Eventually, the CNA that was to come out and bath my mother 2 times a week, would call and say she would be there at 10:30 and would not show up. Whe
Recent Polls
Would you refer this provider to a family or friend?
No, If I had known how terrible they were I never would have gone.
by
Anonymous
xxx.xxx.41.120
April 19, 2013
Did a staff member acknowledge or greet you when you entered?
Yes, I was greeted when I walked in
Add a Review