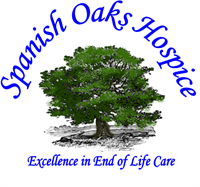 About Spanish Oaks Hospice
Spanish Oaks Hospice is a locally owned and operated hospice, serving the families of Chatham, Effingham, Liberty and Brian counties since 1997.
Spanish Oaks Hospice provides Excellence in End of Life Care in long-term care facilities, assisted living communities, hospital settings and private homes.
Spanish Oaks Hospice uses a team approach, centered on both the patient and family to meet their specific needs. Our highly qualified and compassionate team of experts in end of life care is here for you and your loved ones.

Primary Specialty
Hospice
Practice Spanish Oaks Hospice
Years In Practice 14
Staff Medical Director: Dr. Joenie T. Almeida

Clinical Director:
Susan K Bennett, RN, BSN, MBA


Affiliations National Hospice and Pallative Care Organization,

Georgia Hospice and Pallative Care Organization,

We Honor Veterans,

Lo Cost Pharmacy.
Payment Options
Medicare, Medicaid and private pay
Services Each patient at Spanish Oaks Hospice has a team of specialized professionals who work together with the patient and family to meet their individual physical, emotional and spiritual needs

Hospices services include but are not limited to:

Coordination of care with the patients physician and our Medical Director.

Registered Professional Nurses and CNA services at and above the state and federal standards.

Chaplain, Bereavement, Volunteer and Social Services

24 hours / 7 days a week availability.

Medications, equipment, and supplies to maintain the patients comfort and safety.

A partnership with a local pharmacy including on-call and delivery services.

A extensive and flexible medication formulary.

Consumer Feedback
View All

2

Reviews
Add a Review
Recent Reviews
I can not adequately express my appreciation for the staff of Spanish Oaks Hospice Savannah. They provided me with everything that I needed to make the last few days on this side for my mother as com
by
Malinda Gwyn Thornton
xxx.xxx.73.132
December 08, 2014
It was a pleasure having Spanish Oaks Hospice care for my mother during her last months of life. They were so attentive to our families needs, through their support and encouragment we were able to l
by
Joyce B
xxx.xxx.226.97
May 16, 2013
Add a Review