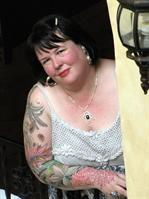 About Karla Linden, LMT,NMT
Karla Linden of Masterpiece Medical Massage has 25 years of exceptional experience as a massage therapist in Albuquerque, New Mexico (NM). As a premiere massage therapist in Albuquerque, NM, Karla has worked on celebrities, stunt people, pregnant women, and professional athletes. No matter who Karla is assisting she treats them as VIPs, providing 5-star treatment for all.

Karla Linden's goal as a massage therapist in Albuquerque, NM is to intuitively work with clients on all levels. While most massage therapists treat the body, Karla has a unique ability to treat the entire person.

If you are ready to treat yourself and are in need of a massage therapist in Albuquerque, NM, call Karla Linden at 505-340-9454.

Se Habla Espanol
Primary Specialty
Massage Therapist
Practice Masterpiece Medical Massage
Gender Female
Years In Practice 28
Education Oglethorpe University

University of Houston

Atlanta School of Massage

Southwest Acupuncture College
Training Atlanta School of Massage

Neuromuscular Therapy Training Center

Hakomi Institute

Trager Institute
Affiliations AMTA

ABMP

APA
Certification NM #6065, Nationally Certified

Certified in Pregnancy Massage

Certified in Neuromuscular Therapy
Services As a massage therapist in Albuquerque, NM, Karla Linden provides a variety of services tailored to each client's individual needs. She offers pregnancy massage, as well as couples and medical message. In addition, Karla can provide treatment for car accident victims (especially back and neck pain).

If you are looking for a massage therapist in Albuquerque, NM please contact Karla Linden today to schedule an appointment, 505-340-9454.
Consumer Feedback
View All

40

Reviews
Add a Review
Recent Reviews
Karla is awesome!!!! I was in sooo much pain, but after ten minutes I was already feeling relief. When the awesome massage was done I was totally pain fr... Read more
by
Debra Girvin
XXX.XXX.73.53
August 01, 2013
Karla Linden is a skilled, caring healthcare provider. She takes the time to listen to me, finding out what immediate problems I am experiencing and also... Read more
by
Anonymous
XXX.XXX.41.176
February 25, 2012
Recent Polls
Did this provider answer all of your questions?
Every question I had was answered thoroughly
by
Anonymous
XXX.XXX.50.162
July 31, 2012