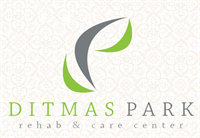 About Uri Turk
Ditmas Park Rehab and Care Center is a 200-bed premier skilled nursing and rehabilitation care center providing comprehensive inpatient care to all of their residents. Located at 2107 Ditmas Ave Brooklyn, NY 11226, Ditmas Park's professional and compassionate staff provides around-the-clock medical and nursing care in a comfortable and caring environment that centers around its residents. Ditmas Park offers exceptional post-acute short-term rehabilitation as well as long-term care.
Primary Specialty
Nursing Home
Practice Ditmas Park Care Center
Services When you or your loved one are in need of supreme short-term rehabilitation in an elegant atmosphere that provides impeccable accommodations and comfortable surroundings, Ditmas Park is your answer. Our revolutionary Quick–n-out™ Rehab Program is the one professional service that addresses your every rehabilitation need. For well over 25 years Ditmas Park has excelled in the field of quality care and short-term rehabilitation. Ditmas Park's facility at 2107 Ditmas Avenue is one of the area's most advanced rehab centers, providing state-of-the-art care for our guests. Our exceptional therapy program caters to the needs of our residents, encouraging their independence and placing a major emphasis on early homecoming. At Ditmas Park, we understand the requirement of a unique treatment program, valuing the diversity of our guests and their families. This belief is inherent in the caring way that our guests are treated.

Ditmas Park's well renowned rehabilitative services have assisted guests in recovering from post stroke, falls that require hip or knee replacement, amputation, arthritis debilitation, sports related or traumatic brain/spinal cord injuries, and other incapacitating illness. Ditmas Park offers speech, occupational, and physical therapy, returning guests-patients to their original level of function. The rehabilitation department provides services based on the recommendations of each guest's-patient's physician. People, who are medically stable but not ready to go home, come to Ditmas Park for quality short-term rehabilitation therapy.

Ditmas Park accepts Medicare, Medicaid, managed care, private pay and many insurance plans.
Additional Services Nursing Care, Alzheimer's Care, Dementia Care
Consumer Feedback
View All

14

Reviews
Add a Review
Recent Reviews
They were very polite and helpful and made sure that I had everything I needed. Whenever I make an appointment, I'm always confident that they're going to be ready for me at my scheduled time. At oth
loved it, great experiance
Recent Polls
Was it easy to find parking at this senior care facility?
No, I had to look for a parking spot for a long time
by
Anonymous
xxx.xxx.46.219
June 16, 2014
Does this provider leave you on hold for a long time when you call?
No, they are really great about answering the phone right away
by
Anonymous
xxx.xxx.104.102
February 10, 2014
Add a Review