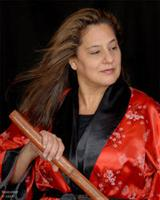 About Victoria (Vicky) Troy, MS, CMT, NCTMB
Victoria (Vicky) Troy owns and operates Energy & Serenity Bodyworks, which offers holistic care and massage in Fairfax, Virginia (VA). Vicky has an extensive background and is certified in many Eastern healing forms, including Shiatsu and Zen Shiatsu, Traditional and Medical Thai, Korean Healing, Reiki and DahnMuDo Black Belt (a Korean healing martial arts form). Prior to practicing massage in Northern Virginia, Vicky worked in many settings including spas and fitness centers, and has worked with acupuncturists, naturopathic physicians, physical therapists and chiropractors. At Energy & Serenity Bodyworks in Fairfax, VA, Vicky and her experienced staff of holistic health practitioners are able to treat everyone from housewives to surgeons to elite athletes.

For the best massage in Fairfax, VA, please call Victoria (Vicky) Troy at Energy & Serenity Bodyworks to set up an appointment, or visit her website for more information.
Primary Specialty
Massage Therapist
Practice Energy & Serenity Bodyworks
Gender Female
Years In Practice 9
Education George Washington

George Mason

Oxford University
Training National Massage Therapy Institute

10 years in the healing arts field

Post graduate work in music as a healing art
Staff Holistic health practitioners include Massage Therapists, Medical Thai Therapists, Reiki Masters and Reflexologists.
Affiliations ABMP - Associated Bodywork & Massage Professionals

AMTA - American Massage Therapy Association

IMA - International Massage Association

NAMT - National Association of Massage Therapists

NAMASTA - North American Studio Alliance
Certification CMT - Virginia License

Nationally Certified in Therapeutic Massage and Bodywork (NCBTMB)
Services At Energy & Serenity Bodyworks, where Victoria (Vicky) Troy offers massage in Fairfax, Virginia (VA), individuals can choose from a wide variety of services. Her massage therapy services include sports massage, deep tissue massage, Thai massage, Swedish massage, injury recovery massage and much more. Vicky also offers body detox using infrared light therapy, ionic footbaths, alkaline water therapy, energy work and bodywork at Energy & Serenity Bodyworks. Her ultimate goal is to bring energy and serenity to the mind, body and spirit of her clients.

Those seeking discount massage in Fairfax, VA should contact Energy & Serenity Bodyworks at (703) 732-0054 and make an appointment with Victoria (Vicky) Troy today.
Consumer Feedback
View All

7

Reviews
Add a Review
Recent Reviews
Vicky was super helpful and patient. She made time for me on short noticeeven though she had other plans and was, as always, very concerned and caring. She made sure every single question I had was a
They were so easy to reach in an emergency, they answered my call immediately. It is a relief to know that I can count on them to always be there for me when I need them the most. It was very easy to
Recent Polls
Were you able to relax during your appointment?
No, I was on edge
by
Anonimous4
xxx.xxx.40.100
November 16, 2013
Did this provider answer all of your questions?
Every question I had was answered thoroughly
by
Anonymous
xxx.xxx.128.10
April 25, 2012
Add a Review