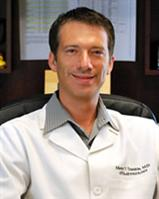 About Monty V. Trimble, MD
Located in Southwest Fort Worth and Keller, the offices of Dr. Monty V. Trimble and Dr. Jonathan S. Wu are ready and available to provide you with competent and professional care. We specialize in the evaluation and treatment of diseases of the ear, nose, throat and head and neck regions. Dr. Trimble is a board certified Otolaryngologist- Head and Neck Surgeon. He offers medical and surgical care for the full spectrum of disease related to this field yet has several areas of interest. These include treatments where technology has improved patient outcomes, condition, and recovery time. Coblation technology has improved pain and recovery time for tonsillectomy in children and adult, and sleep apnea surgery. Balloon Sinuplasty allows for less invasive sinus surgery. Thyroid and parathyroid surgery can be performed through a small excision without bothersome drain tubes. Snoring and nasal obstruction can be treated in the office with minimal pain and time off work and other activities.


Primary Specialty
ENT Otolaryngologist
Practice Monty V. Trimble, M.D.,P.A.
Gender Male
Education Univ Of Tx Med Sch At San Antonio, San Antonio Tx 78284
Training Univ Mo-Columbia Sch Med, Otolaryngology; Univ Mo-Columbia Sch Med, General Surgery
Services Monty V. Trimble, MD provides otolaryngology services in Fort Worth, TX.

Please call Monty V. Trimble, M.D.,P.A. at (817) 529-6200 to schedule an appointment in Fort Worth, TX or to get more information.
Consumer Feedback
View All

13

Reviews
Add a Review
Recent Reviews
Initially, I had a great experience with his staff. Everyone is very friendly and the office is very nice. I thought it was kind of obnoxious that his staff did most of the work and he came in and sp
by
Not worth it
xxx.xxx.123.172
September 02, 2013
Every time I come here they always remember me by name and greet me as soon as I walk in the door, even if it's been months since my last appointment. They are professional, considerate, and knowledge
Recent Polls
Did this provider's staff seem to respect him/her?
Yes, I could tell the staff respected him/her
by
Linda Schmanke
xxx.xxx.247.237
October 05, 2013
Were the staff members able to answer your questions?
Yes, they were able to answer my questions
by
Anonymous
xxx.xxx.158.240
December 19, 2012
Add a Review