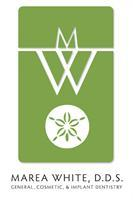 About Marea White, DDS
Dr. White has earned a reputation for excellence in dentistry in the mid-cities area. Her practice is extremely dedicated to the profession of dentistry and ensures patient comfort and satisfaction on ALL levels. From offering pillows, warm blankets, flat screen TV and iPods in treatment rooms, to oral sedation and nitrous oxide (laughing gas) for patients who are a little more anxious. Dr. White utilizes the latest in technology - including intraoral cameras, digital xrays, to "drill-free" "mercury free" fillings and much more. Dr. White has vast experience and specialized fellowship training in forensic dentistry. She works with the Fort Worth Medical Examiner's Office, helping to accomplish positive identification for some of the toughest cases. She was honored to travel to Ground Zero in New York City to help identify victims of the attack.
Primary Specialty
Dentist
Practice Marea White DDS
Gender Female
Services Marea White, DDS is a dentist/dental office located in Bedford, TX 76021. A dentist is trained to diagnose, treat, and prevent diseases of the gums, teeth, and jaw.

Please call Marea White, DDS at (817) 283-0047 to schedule an appointment in Bedford, TX or get more information.
Additional Services General,Cosmetic, Restorative, Implant Dentistry