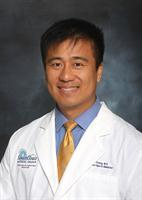 About John Cheng, MD
Board-Certified American Board of Family Medicine/ Fellowship Sports Medicine

From where does a doctor gather and shape his "bedside manner?" Dr. John Cheng's "kind manner" began it's shaping in his childhood, while growing up in a small hospitable town in the southern United States. That shaping continued on through his residency and fellowship at the prestigious University of California at Los Angeles Kaiser Programs in Family and Sports Medicine. Today, as he maintains his Board Certification and continues to research and utilize the latest technologies, his admired manner continues its shaping.

As the son of a physician who practiced medicine the old-fashioned way, Dr. Cheng's personal and caring approach to medicine was being shaped long before he studied at Texas Tech School of Medicine. Likewise, his lifelong love for the Martial Arts, that began in his childhood, was preparing him to become a Family Physician widely respected for his knowledge of Nutrition and Sports Medicine. Dr. Cheng, a sports enthusiast , is an accomplished master Martial Arts Instructor. In addition to serving in the past as team physician for several local high schools, he is sought out by both amateur and professional athletes alike.

It is rare to find a family doctor so well able to give quality care in such a wide variety of situations and arenas. His commitment to care conventionally and holistically for his patient's physical, emotional and spiritual needs continues to delight his new patients and long-term patients alike.

As a parent of two, Dr. Cheng has a unique ability to empathize with a parent's concern for a young child's cough. His athletic endeavors and his prestigious sports medicine studies have prepared him extensively for numerous other situations. He often gives appropriate and valued advice to both the second grade aspiring soccer star and the most serious of adult athletes. His reputable knowledge and understanding of nutrition serves both the individual growing in commitment to weight management, as well as the cancer survivor training for her first triathlon. When it comes to the care that Dr. Cheng consistently gives, it is not uncommon to see the same level of excitement and appreciation from a mother expecting her first child and a grandparent committed to staying healthy long enough to someday attend a great grandchild's wedding.

Within moments of meeting Dr. Cheng, one will be assured that he values long-lasting relationships. His relationships with his patients continue through the years due to his ability to relate well with people from many backgrounds. Additionally, Dr. Cheng, Board Certified as a Physician and Surgeon, has gained a reputation for being gifted and adept at assessing challenging cases. Like a seasoned detective still energized by new challenges, he creatively engages with his patients to come to solutions for each individual situation.
Primary Specialty
Family Doctor
Practice South Coast Medical Group
Gender Male
Education Tx Tech Univ Hlth Sci Ctr Sch Of Med, Lubbock Tx 79430
Training Kaiser Permanente Southern Ca, Family Medicine
Services Family Medicine in Aliso Viejo
Primary Care, Urgent Care, Sports Medicine
Additional Services Urgent Care, Sports Medicine
Consumer Feedback
View all

5

Reviews
Add a Review
Recent Reviews
They always made sure that I wasn't in any pain. They always dress so professionally here, the entire staff obviously makes an effort to look their best and maintain a very professional appearance. I was so impressed with the progress I was able to make after visiting them. All my questions were answered, and I feel a lot more confident and hopeful about the future. I was worried that they were going to wear an obnoxious cologne, because I've dealt with that at other places, but they didn't even wear cologne. It was fantastic to be able to breathe freely the entire time. I haven't seen any coupons or discounts for this provider's office, but I haven't really looked. They never mention anything about promotions when I'm there.
by
anonymous
XXX.XXX.162.182
February 03, 2014
Did this provider seem irritated to be working with you?
Not at all, they were glad to help me with anything I needed
by
Anonymous
XXX.XXX.155.90
September 28, 2013
They made sure every single question I had was answered, and are always available if I think of any more questions I want answered. Their staff is very friendly and professional. I was very satisfied with my visit. They were helpful and I left feeling encouraged. The office was easy enough to find.
by
Anonymous
XXX.XXX.220.226
March 19, 2012