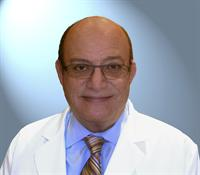 About Bernard S Lewinsky, MD
We are proud to be one of a handful of cancer centers in the country to offer Varian RapidArc to cancer patients. In just about 2 minutes and in one turn of the machine, treatment is delivered and you are on your way. In our convenient and comfortable center, patients find our facility, "...very relaxing" and "peaceful". "It's like an art gallery of wonderful nature photographs all taken by Dr. Lewinsky."
Primary Specialty
Radiation Oncologist
Practice Radiation Oncology
Gender Male
Education Bernard Lewinsky, MD, received his board certification in Radiation Oncology in 1974. His undergraduate years were at UC Berkeley where he received a Bachelor's degree in Biology. He received a Master's Degree in Biology from the University of Oregon in 1965. His medical training was at University of California, Irvine, receiving his medical degree in 1969. After a year's internship at LA County-USC, he started his training at Saroni Tumor Institute in San Francisco. He spent a year of Fellowship at the Royal Marsden Hospital, London, England, and then completed his training at the West Coast Cancer Foundation, San Francisco in 1974.

After two years as Chief, Radiation Therapy Service at Letterman Army Medical Center as his Military duty in the Army, he came to Los Angeles and began his practice at Western Tumor Medical Group (WTMG) in 1977. Dr. Lewinsky has been at WTMG since that time and became its President and owner in 1994. In 2004, Vantage Oncology and WTRG formed a joint venture to upgrade the technology and to modernize and manage the center. In 2006 he joined the medical practice Valley Radiotherapy Associates. He has received the Medal of Commendation for his services in the Army and has also been recognized as a Fellow of the American College of Radiology. Dr. Lewinsky has developed special interest in breast and prostate cancers and has authored and co-authored many peer-reviewed articles in the Medical literature and has also written several chapters in Medical textbooks. His main interest outside of the Medical field is Nature Photography. He believes there is a healing aspect and connection between nature photography and the human body and mind. Other languages spoken: German and Spanish.

Services Bernard S Lewinsky, MD provides radiation oncology in WEST HILLS, CA. A Radiation Oncologist is an oncologist who treats cancer using radiation therapy.

Please call Bernard S Lewinsky, MD at (818) 884-1683 to schedule an appointment in WEST HILLS, CA or to get more information.