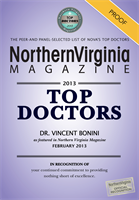 More Nearby
About Vincent J Bonini, DPM
Your feet are the foundation of your body. At Potomac Podiatry Group, we help you build a healthy life from the ground up. Dr. Vincent Bonini and his well trained staff have the extensive training and expertise to ensure you're in the best hands no matter what podiatric issues you face.

Dr. Vincent Bonini DPM, F.A.C.F.A.S.
Board Certified in Foot Surgery
Fellow, American College of Foot and Ankle Surgeons
Diplomate, American Board of Podiatric Surgery


Listed in the Northern Virginia Magazine's Top Podiatrists of 2012 and 2013 Dr. Bonini specializes in treating both children and adults who suffer from a wide variety of conditions such as: these if there are
Sports Injuries
Heel Pain
Dermatitis / Fungal and Ingrown Toenails
Warts
Bunions / Hammer Toes
Planters Fasciitis
Injuries
Arch Supports and Flat feet
Pediatric Foot and Ankle Pathology


With two convenient locations, our practice is supported by Dr. Craig Morgan and Dr. Tina P. Huynh and is equipped to handle anything from routine checkups to evaluations for foot and ankle surgery.

If you suffer from a foot and ankle problem, you are not alone. Visit our website to see a complete list of the conditions we diagnose and treat.

Take a step in the right direction by contacting our Woodbridge office. Call 703-583-5959 and let us help you maintain healthy feet and ankles
Primary Specialty
Podiatrist
Practice Potomac Podiatry Group
Gender Male
Services Vincent J Bonini, DPM provides podiatry in WOODBRIDGE, VA at 2280 OPITZ BLVD STE 230 230, WOODBRIDGE, VA 22191. Podiatrists are able to treat conditions and disorders of the foot, ankle and lower leg. A Podiatrist may treat bunions, calluses, ingrown toenails, heel spurs or foot deformities.

To determine if Vincent J Bonini, DPM can help you, please call the WOODBRIDGE, VA office at (703) 583-5959 for more information.
Additional Services Complex Reconstructive Foot and Ankle Surgery
Consumer Feedback
View all

98

Reviews
Add a Review
Recent Reviews
Does not like opinion of other specialist, went so far as to throw inserts away so orthopedist could not see them. I was getting a different issue checked out!! His staff is not the friendliest, he has changed them up but it has not helped. Starting to think it is they way they are treated, because doctors who get involved in the practice seem to not last either.
I've been seeing Dr. Bonini (or his co-horts) for years. I keep going back, so that says it all.
I didn't experience any unnecessary pain during my visit, and I was amazed at how much better I felt after I left. Not only was Dr. Bonini able to provide everything he promised me, he went above and beyond and exceeded my expectations. He is always very considerate and professional. He always goes above and beyond to help me with anything I need. He and his staff never complain about anything, and I know I can always count on them.