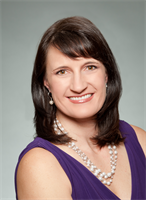 About Carolynn M Young, MD
"There's POWER in prevention". Our goal is to prevent cancer in the greater Washington, D.C. area. Rockville Gynecology provides top-quality GYN care which is individualized to each patient. We offer the myRisk blood test (formerly BRCA) to women who have a family history of cancer. We also offer BrevagenPlus, which is a mouth swab that checks to see who is at higher risk of breast cancer. Knowledge is power, and we aim to empower each of our patients with information to help them make smart decisions about their health. If surgery is required, we specialize in minimally-invasive GYN surgery, including daVinci surgery, to allow for less pain, fewer complications, and a quicker recovery. Our mission is to improve the quality of women's lives. If heavy bleeding is a problem, we offer in-office Novasure, a procedure to decrease the amount of flow. It is done under IV sedation, so there's no pain, and only one day recovery. We also perform Essure in office, which is the "modern way" to tie tubes. For the procedure, a small coil is placed through the cervix into the opening of each tube using a camera. It can be done under local anesthesia. The procedure takes 5-10 minutes, with mild to moderate cramping for 1 day, and the patient can drive themselves home. "There's POWER in prevention." We help to prevent cancer, and prevent pregnancy, when the time is appropriate. The providers at Rockville Gynecology welcome the opportunity to partner with you to keep you healthy.
Primary Specialty
Gynecologist
Practice Rockville Gynecology
Gender Female
Years In Practice 15
Education Vanderbilt University School of Medicine, 1993-1997

Training Eastern Virginia Medical School for Internship & Residency in Obstetrics & Gynecology, 1997-2001
Affiliations Chief of Gynecology, Suburban Hospital
Shady Grove Adventist Hospital
Shady Grove Pregnancy Center, Medical Director
Certification Board Certified in OB/GYN (American Board of Obstetrics/Gynecology)
Services Routine Gynecological exams
Contraception
Management of abnormal bleeding & fibroids
Minimally invasive gynecological surgery
daVinci laparoscopic hysterectomy
daVinci laparoscopic myomectomy
Management of abnormal pap smears
Essure/permanent sterilization
Novasure endometrial ablation
Ovarian cysts
Additional Services Fibroids, Abnormal bleeding, daVinci surgery, hysterectomy, myomectomy, cancer prevention, Brevagen, Essure, Novasure
Consumer Feedback
View All

26

Reviews
Add a Review
Recent Reviews
Dr. Young is a wonderful provider. She explains options in an extremely clear and caring way. Her office staff and surgical coordinator are also very helpful. I am post op now and very glad that I
Recent Polls
Does this provider remember you by name?
Every single time, even if it's been months since my last appointment!!
by
Anonymous
xxx.xxx.36.70
November 25, 2013
Would you recommend this OBGYN to others?
Yes
by
Kimberly
xxx.xxx.12.222
October 11, 2013
Add a Review