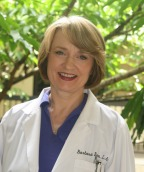 About Barbara Burns, L.Ac.
Many of the people who come to see Barbara are at the end of their rope. They've been through the revolving medical door over and over again. The have diagnoses a medical name for their problem -- but no solutions except maybe drugs or surgery. And maybe they don't have those options either.

Often patients come with chronic complaints inexplicable nerve pains, years of insomnia, arthritic knees, intractable heartburn, disabling anxiety or simply overwhelm and stress. They have to go on with these conditions but it takes a daily nick out of their quality of life. Others want help with temporary or acute complaints like seasonal sinus headaches, fatigue, hot flashes or dizziness. And they don't realize that this medicine can diminish and often relieve these nagging symptoms. And that's who Barbara sees.

Conditions addressed with Acupuncture, TCM and Herbs include:
-Women's Health
-Family Practice
-Fibromyalgia
-Gastrointestinal Disorders
-Headaches/Migraines
-Hypertension
-Immune Disorders
-Infertility
-Insomnia
-Menstrual Disorders
-Musculoskeletal Disorders
-Oncology Support
-Orthopedics
-Stress/Anxiety
-Dermatology
-Addiction
-Pain Management
-Nutrition
-Allergies
-Colds and Flus

Patients appreciate Barbara's ability to listen to their health concerns, carefully assess their diagnostic picture, and clearly communicate the appropriate theories and treatment practices needed for recovery. Since Traditional Chinese Medicine is a powerful wellness tool, most people face only two concerns: Will it help me? and Can I afford it? Barbara is happy to talk to you personally about the first concern, and her office manager, Lynette, will discuss the second.

Primary Specialty
Acupuncture Specialist
Practice Barbara Burns, Licensed Acupuncturist
Gender Female
Years In Practice 15
Education SAMRA University (Los Angeles, CA)
University of Washington (Seattle, WA)
Training Barbara has pursued specialized studies in fertility and musculoskeletal conditions, including a year-long, 200-hour course in orthopedic acupuncture.
Staff Lynette Lee, Office Manager
Affiliations National Acupuncture Detoxification Association Specialist (NADA)
Certification Masters of Science, Oriental Medicine (MSOM),
B.A., Secondary Teaching Certificate/5th Year

Services Acupuncture
Traditional Chinese Herbs
Moxibustion
Tuina
Electroacupuncture
Fertility Support
NADA Protocol
Additional Services Transformations 360 Weight Loss & Pre-Diabetes practitioner; fertility; pain; NADA (National Acupuncture Detoxification Association) practioner