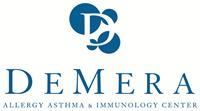 About Richard DeMera, MD
The DeMera Allergy, Asthma, and Immunology Center is committed to providing thorough, individualized care to every patient. Unlike other allergy centers, we won't simply continue prescribing you medications until we find one that works. We'll take the time to diagnose you correctly, finding the root of your problem and treating it in the most effective way possible.

At DeMera Allergy, you'll be seen exclusively by Dr. Richard S. DeMera. Board-certified in internal medicine and allergy/immunology, Dr. DeMera is a Valley native who understands the unique problems faced by allergy and asthma sufferers in Central California.

We pride ourselves on providing the best individualized care possible. When you call our offices, we'll make sure your appointments are scheduled without delay and all of your questions are answered promptly.

Asthma and allergies affect thousands of people in the Fresno and Visalia areas. If you're one of them, it's time to stop suffering and start breathing clearly once again. Contact us today to schedule an appointment.
Primary Specialty
Asthma - Allergy Specialists
Practice DeMera Allergy Asthma and Immunology Center
Gender Male
Education Creighton Univ Sch Of Med, Omaha Ne 68178
Training Univ Ca Davis Health System, Allergy And Immunology; St Mary'S Hosp Med Ctr, Internal Medicine
Services DeMera Allergy, Asthma, and Immunology Center provides comprehensive allergy evaluation and treatment services for children and adults. All patients are seen exclusively by Dr. DeMera, who is board-certified in internal medicine and allergy/immunology.

Diseases Treated:
Allergic Rhinitis (Hay Fever)
Non-Allergic Rhinitis
Asthma
Chronic Sinusitis
Chronic Urticaria (hives) and Angioedema
Food Allergies
Stinging Insect Allergies (bee, wasp, hornet)
Atopic Dermatitis (eczema)
Chronic Cough
Laryngopharyngeal Reflux
Drug Allergies
Additional Services Immunology
Consumer Feedback
View All

25

Reviews
Add a Review
Recent Reviews
Immunology patients beware! Dr. DeMera's repeated verbal professions on separate occasions DO NOT MATCH his actions. He orders extensive tests then fails to ever call the patient with the results o
by
Anonymous
xxx.xxx.124.191
June 22, 2016
They are completely committed to helping me as long as it takes to find the best solution. I never have to worry that they'll back out or give up if a solution isn't reached immediately, which has bee
Recent Polls
Does this provider remember you and your circumstances at every appointment?
Yes
by
Anonymous
xxx.xxx.118.119
October 12, 2013
Did this provider thoroughly explain the risks and benefits of your treatment?
Yes, they made sure I had all the information I needed to make a decision
by
Anonymous
xxx.xxx.44.222
July 25, 2013
Add a Review